Thanks, "Tita" Marietta, for sharing this recipe. She thought I needed to learn a survival skill. I've never profited from it except in endless compliments.... I can never cook enough, laging ubos. You can change proportions of ingredients and adjust seasonings to your taste. E.g. you may add thyme or oregano as you wish, to the chicken as it sautees. Substitute ground chicken if you're in a rush.
Make these the day before you intend to serve, preferably with a couple of "assistants", or kachismis(gossipmates). The filling needs time to chill and for the flavors to develop.
Chicken empanada: (Makes about 24, snack size)
DOUGH:
4 cups all purpose flour
1 cup sugar
1/2 cup Crisco, chilled
1/2 tsp baking powder
1 tsp salt
1 cup ice water
Combine flour, sugar, baking powder and salt. Cut in Crisco with pastry blender (or 2 bread knives) until mixture resembles coarse meal. Sprinkle ice water and blend just until mixture forms a dough ball. Chill in refrigerator until ready to use.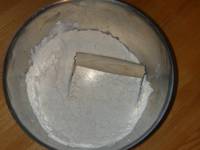 FILLING:
2 cloves garlic,chopped fine
1 medium yellow onion, diced' or 2 shallots
2 1/2 lbs. coarsely chopped chicken, pref. dark meat
1/2 can cream of asparagus soup
1 diced medium potato
1 diced carrot
1/3 cup frozen sweet peas, thawed
Saute garlic, onion & carrot until onions are translucent. Add chicken and stir fry until chicken meat is opaque(cooked thru) . Season w/ salt and pepper. Add cream of asparagus soup and potatoes and cook until vegetables are tender. Add peas. Remove from heat. Store in refrigerator overnight.
On a floured surface and w/floured hands, roll out dough into 2 logs. Cut logs into 24 pingpong size balls. Roll out dough to 1/8 inch thickness.
Shape into 5-inch ovals. Fill w/ 1 tbsp.chicken filling on half of oval, and fold over into a crescent shape, with top edge just short of bottom edge. Seal edges with fork tines, or twist and pinch for "rustic" edging. Chill until ready to cook.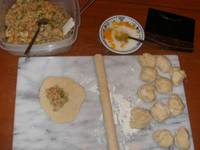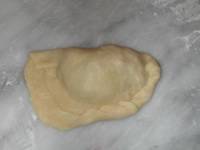 Brush each empanada with egg wash (1 egg beaten with 1 tsp. milk) and bake at preheated 400F oven, in lightly greased cookie sheets, for 25-30 minutes or until goldy brown on top.
remove pans fr. oven, cool empanadas for 5 minutes in pans. Lift them gently out of pans and transfer to racks and let cool. Or, deep fry at 375F for 3 minutes.
Serve warm. Can be frozen ( put cooked empanadas in single layer on sheet pans in freezer; when stiff, put in ziploc bags or air tight plastic bins and store for maximum 3 months. Reheat in preheated toaster oven).