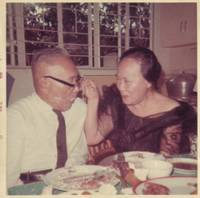 40th Wedding Anniversary,1966&nbsp
a wittle girl in the back is trying to sneak in for a lick of macapuno ice cream
My lola's first question when she saw or phoned us up was, "Kumain ka na?Did you eat yet?". Then she'd do the "roll call," keeping track of where everyone was in the household.
She preferred eating with her fingers; she only acknowledged anyone was seriously ill when they refused to eat a bite. She let me tag along to the wet market. After Sunday mass, in her full terno't saya (traditional dress), she would take me to the corner store and get me a comic book, Archie usually, and a tin of barquillos for dipping in ice cream.
She totally pampered my lolo, heating and reheating his food while he was in philosophic reverie,not hearing her calls: "Hoy! kain na!time to eat!" or as he read the newspaper or a paperback, or strolled with his rooster and dogs in the garden.
So the plan to make okoy today has been scratched because #1son will.not.eat.shrimp.
Unless it's tempura. I will just slice the purple potatoes and kamote (sweet potatoes)I intended to use for the okoy patties. Then my son won't say, "chicken again"?.
cut down and across, & peel off shell just before the last segment, keeping tail intact; trim tail tips
cut 3 shallow slits across belly so shrimp won't curl up too much in hot oil
nifty tongs

purple potatoes
Shrimp and Vegetable Tempura
A Crispy Batter: 1 extra large egg, beaten in enough ice water to make 2/3 cup, in a large bowl; add 2 cups flour and beat roughly with chopsticks just until mixed (batter will be lumpy and flour will not blend in completely; if batter is too thick add more ice water but do not overbeat); add in 2-3 ice cubes to keep batter cool.
Have a platter of seasoned flour (salt and pepper) and the bowl of batter near the stove.
Preheat canola oil up to a depth of about 1 and a half inches. Oil should be hot but not smoking.
Dip shrimp and your choice of vegetables: we used tofu squares-drained and patted dry, purple potatoes, sweet potatoes and sliced onions; green beans, zucchini, shiitake mushrooms, pea pods work well too--in flour, patting off excess. Dip in batter, holding by tails, and carefully lower into hot oil. Fry until golden brown (about 2 to 3 minutes) then immediately remove to paper-lined serving plates.
Serve immediately with dipping sauce: 1 cup of water gently boiled with 1 tsp. of dashi-no-moto, 1 cup of soy, and 1 cup of mirin (Japanese sweet cooking wine).