An email from a nice bloggie friend set me thinking: what
won't
I eat?
I've so far turned down adobong salagubang (adobo beetles) and barbecued tree snakes, as far as this old lady recalls.
The most exotic food I've said yes to is turtle stew in a restaurant in Nassau (nothing remarkable or distinctly turtle-ish about it; but ssh! don't tell #2 son. He cried when I told him the turtles at the fish counter of Kam Man were for soup).
I love snails with garlic and butter or with black bean sauce. Sashimi!ahhh,rapture. Rabbit adobo was so-so, frogs legs tasted like fishy chicken.
I might turn down other bugs or larvae, or a komodo dragon, but I might try alligator or iguana (heard they taste like chicken).
But if there's a food shortage we'll see how quickly that list gets unchecked.
Dinuguan
is something I had to teach myself how to cook (or else I would only daydream about it), and the following recipe is gleaned from years of snooping in other people's kitchens and "researching" recipe books. This is Pinoy style cooking (no measurements, taste and season, season and taste).
(Have on hand some hot water or broth for adding on to the stew as necessary).
Boil 1 pork heart, 2 pork tongues, 1 pork ear until fork-tender. Drain and cool. Peel off tough membrane from tongues. Trim off the veins(ventricles?) from the heart. Cut into bite size pieces.
Boil pork intestines (I could not find the ones that look like little white sausage links so I used the "other" segments, see below) and discard the liquid. Add water and bring up to a boil again, this time with a chunk of crushed ginger, peppercorns sea salt, and thyme sprigs. Simmer until tender. (Discard water and re-boil if odor is still disagreeable, several times if necessary). Cut open the intestines and scrape off the fatty white lining--get rid of the artery busting stuff and you're left with just the uric acid level raising stuff. A bit less to worry about! Slice or mince into bite-size pieces.
Saute garlic and onions until fragrant and onions are translucent. Add julienned and pounded lemongrass.
tanglad
(This I learned from an Irish nurse! no joke. She relayed it to me, from her Filipina co-workers at a Middle Eastern hospital).
Add chopped up meaty pork (shoulder or other fatty cut), and the other "variety meats". Season with salt and pepper, peppercorns, bay leaf and a bit more of thyme (4-5 sprigs). Stir-fry until meat is no longer pink. Add hot broth or water and seasonings if the mix is getting too dry.**
Add about 3/4 cup of Filipino coconut vinegar. Increase heat to medium high and bring up to a boil without stirring. Decrease heat and simmer about 45 minutes. Add pork blood in a steady stream to the pot, stirring continuously to avoid curdling.
Simmer about 10 minutes more.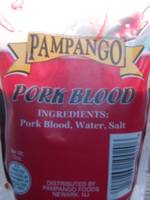 This recipe makes a huge pot, but it freezes well and is fun to trot out when Pinoy friends and relatives come knocking at the door. You may also add chopped pork liver at the same time as the blood.
**I made this one soupy so I could dip (store-bought: I gave up on cooking puto as nothing came close) Vietnamese puto (steamed rice cake). Less broth and you get a stewy dish that's great over steamed jasmine rice.
Caveat
: Serve this dish, with it's exotic "witch's brew" list of ingredients,to your non-Pinoy beloved only when commitment is secure. Say, after the wedding ring is on the finger, mortgage is signed/shared, 3 kids? (Just kidding, husband learned of this dish when he lived in a Waray-Waray barrio--"dugodugo".)