"finally! lobsters I can eat!"...#2son.
His beloved great aunt surprised him with a visit and a bagful of somewhat softshelled live crustaceans. We were too full from the BOOfey but I had to cook them. To extend the birthday feeling for boyboy the next day I decided to try and make the seafood soup which he loves from China Pearl, our Chinese family's favorite restaurant for both dimsum and banquets. They serve it with crab meat and it can also be ordered with shark's fin, but for this I used the Maine lobsters, snow fungus(for texture, it has no distinctive taste) and fish maws(which adds an exotic fishy arome), dried products easily available in Chinese groceries.
I also wanted to try out a new noodle I found intriguing: broad mung bean threads (fat sotanghon) to mimic the texture of shark's fin. Somewhat.
Start the soup stock early in the day you intend to serve.
I used 3 chicken "torso carcasses" ( all for $1),but necks and backs or even a couple of leg quarters will do; remove as much of extra fat and skin as you can to cut down on grease. Pour in cold water. Bring up to a boil, skim off grey scum, and drop in 2 peeled shallots, a tsp. of whole black peppercorns, salt and ground black pepper. Simmer for about 3 hours. Drop a thin slice of ginger and keep on a low simmer. Taste and adjust seasonings.
Meanwhile, if using snow fungus and fish maw:
soak the snow fungus, about 2 tennis-ball size rounds in cold water ( they will expand as they soak), about an hour. When soft, discard water and chop up finely, discarding tough ends and re-rinsing to remove grit.
soak the fish maw in very hot water, pressing them down into the bowl with a heavy saucer to make sure they stay submerged, also for at least an hour. Discard water and chop finely.
Soak 2 bundles of the bean threads in lukewarm water just until the strands are pliable. Drain and rinse.
Dice or flake the meat from 2 lobsters.
Wash, trim and julienne the white parts of 2 stalks of green onions (scallions).
Finely chop the green part for garnish.
Mince one shallot and fry in 1/4 cup of peanut oil for 10 minutes over medium low heat to make shallot oil. Store in a tightly lidded jar.
Bring the broth up to a rolling boil and add 2 tsp. of light soy sauce (e.g. "Pearl River Bridge brand), 1/4 tsp. of white pepper, 1/2 tsp. of shallot oil, and a pinch of salt. Add white julienned scallions, snow fungus, and fish maws, if using. Test for doneness of fungus-it should have a pleasant crunch. Fish maws must be soft. Add lobster meat and bean threads; bring up to boil once more.
Pour in an
egg white
while beating broth with a chopstick. Serve at once, garnish with white pepper and chopped green scallions.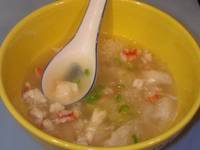 *Taste often to avoid oversalting.
Extra shreds of ginger can be added before the fish and dried products are added; my kids like it not too "spicy" so I only used a thin slice.
Verdict: "as good as"!