My kids are now absolutely sure their mom is cracking up...I've been singing a la Maria von Trapp, "My favorite things," to cheer up after the Bushy badgering we got.
"The Sound of Music" was my favorite movie for a long long time. My Lola loved "Something Good" and got misty eyed over the lyrics (she thought about lolo). My best friend and I memorized all the lyrics and often sang in tandem. Now that our household is blanketed with the blues from our Big Loss I find myself humming thusly...
"when the dog bites
when the bee stings
when I'm feeling sad
I simply remember my favorite things
and then I don't feel
so bad..."
Cooking keeps my brain and hands busy so later I
hope
to post my first attempt at pressure cooking (inspired by Atty. Sassy) and a chocolate dessert to chase the Dementors away (that J.K. Rowling hit the nail on the head and pinned the tail on the donkey with this reference).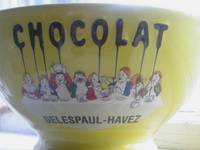 Also a friend emailed me an interesting read. Perhaps some one can confirm its veracity:
A girl named Faye
.